Coronavirus live news: UN warns of 'biblical' famine as Trump reveals 60-day immigration halt | World news
This is Jessica Murray, I'll be taking the lead on the blog for the next few hours.
As always you can reach me on jessica.murray@theguardian.com or on Twitter (@journojess_). I might not have time to reply to all your messages but I'll certainly read them all.
Japanese officials said on Wednesday that 34 crew members on a docked cruise ship had tested positive for the coronavirus in one day of testing among 57 crew after the first case from the ship was reported.
The Italian-operated Costa Atlantica has been docked in Nagasaki since late January for repairs and maintenance by Mitsubishi Heavy Industry. The ship carries 623 crew members, including a Japanese translator, but it was empty of passengers during the work.
The outbreak surfaced on Tuesday when the first crew member, identified only as a foreign national, tested positive for the virus. None of those infected had serious symptoms and all are isolated in single rooms on the ship, officials said.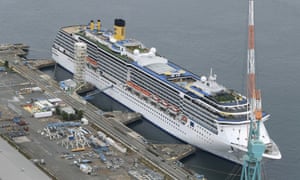 Mitsubishi officials said no crew members had left the ship since mid-March. Before then, crew members had been allowed to come and go from ship to shore if they passed temperature checks and had not recently travelled to high-risk countries such as China and Italy.
Nagasaki officials are investigating how and where the crew members contracted the virus.
"Many infections have been confirmed on the ship," Nagasaki governor, Hodo Nakamura, told reporters on Wednesday. "We hope that they will be able to go home in full health as soon as possible. We are asking the national government for help."
The outbreak on the ship adds to concerns about testing and hospital capacity in Nagasaki, where only 102 beds are available. All of Japan is under a coronavirus state of emergency as cases rise in the world's oldest population and third-largest economy.
Japan has about 11,500 cases of infection, with 280 deaths.
Those numbers are separate from an earlier outbreak on another cruise ship which docked in Japan, the Diamond Princess, carrying more than 3,700 passengers and crew, where 712 of them were infected.